PUPPY  INQUIRY  INFORMATION
---
UPCOMING   WYNWOOD  LITTERS
Wynwood Females due to be bred in late 2023 and early 2024
 (click on the females name to go to their individual page for information and health clearances)
---
Available puppies from  a Topper Stud Service litter.  Contact the breeders listed directly
Luke Siekierski – Cutler, IN  Litter due 8/5/23.  lsiekierski@yahoo.com  Confirmed pregnant
Pedigree for Topper x Finley litter
https://www.k9data.com/pedigree.asp?ID=1299565
---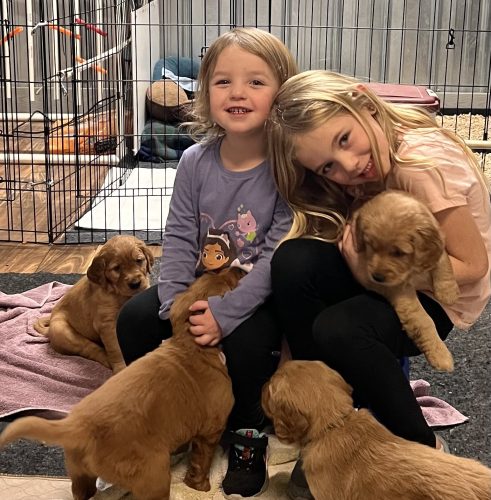 Sophia & Olivia visiting with the puppies
---
WYNWOOD PUPPIES AND MY GRANDSONS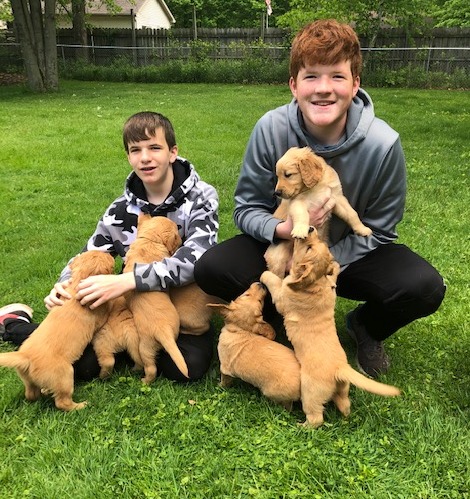 "A loyal friend is a powerful defense: whoever finds one has indeed found a treasure.  A loyal friend is something beyond price, there is no measuring their worth.  A loyal friend is the elixir of life"
---
Thank you so much for your interest in a Wynwood Golden Retriever puppy. 
---
All Wynwood puppies are raised in a home environment, introduced to
Neurological 
 Stimulation
and receive daily socialization and a variety of experiences to enhance their motor and
mental skills. They are from backgrounds that have consistently produced
healthy, long lived Golden Retrievers that are extremely talented in all venues of
obedience, agility and field events, as well as being healthy, intelligent, loving family
companions. Wynwood Golden Retrievers are active dogs.  Wanting to interact with their
 families in a variety of actives such as obedience,  hunting, hiking, swimming, retrieving, etc.  After adolescence and with proper training, Wynwood Goldens have an 'off switch' and are quiet in the home environment.   Wynwood Goldens, like most sporting breeds, are not couch potatoes and require more then a walk around the block as regular exercise.
 Please contact me for more details regarding litter plans. 
No text message inquiries.
  Please read the Puppy Guarantee/Contract on this page to further understand what you should expect from me as a Breeder and what I expect from you as an owner of a Wynwood Golden Retriever.
It is recommended that you reserve your puppy early.
North Street, MI 48049
(also recognized as Clyde, MI)
Included in the price of Wynwood puppies:
Health check by licensed Veterinarian
AKC Registration Application

Pedigree-Puppies genetic & health background
 Information on parents health clearances, titles earned and awards achieved
(Click to view Puppy Sales Agreement)
---
A PHONE CALL IS REQUIRED BEFORE SENDING IN THE WAIT LIST FORM
---
After lengthy research into the subject of the removal or non-removal of dew claws, Wynwood has decided that strong, proper development of the tendons attached to the dew claw is more important then the rare incidence of injury to a dew claw. Puppies produced at Wynwood will not have their dew claws removed.  Please click on the above link, Dew Claw Protocol,  to read a report from Chris Zink DVM, PhD regarding the support of non removal of dew claws.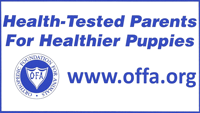 Wynwood puppies range in price from $3500.00 – $4000.00.  This price reflects the quality of the breeding, on-going health checks and Veterinary care on all breeding stock,  extensive planning,  genetic research and 45 years of knowledge of Golden Retriever pedigrees/lineage to produce a healthy, structurally sound Golden Retriever.  Importantly, the background behind a Wynwood puppy is inherent of appropriate Golden Retriever temperament, retrieving ability and longevity.  The Puppy Guarantee can be found on this page
---
If Wynwood is unable to provide a Golden Retriever puppy for you in the time frame you are interested in, you can contact the Golden Retriever Clubs listed below

 The three Golden Retriever Clubs in MI offer a referral service for their members who may have puppies available.  Below you will find the contact information for their referral service. Also listed you will find the GR Rescue and GR Club of America.
Marshbanks Golden Retriever Club:  maryannredman@comcast.net
Fort Detroit Golden Retriever Club: carolr2u@comcast.net
Mid Michigan Golden Retriever Club: allenridgegr@hotmail.com
Michigan GR Rescue:  www.grrom.com
Golden Retriever Club of America:  www.grca.org
https://www.grca.org/find-a-golden/

The GRCA provides puppy referral as a convenience to puppy buyers to find out about breeders who are GRCA members and their litters. GRCA takes no responsibility whatsoever for any puppies/dogs that you may acquire through GRCA puppy referral. GRCA is not responsible for any breeder's sale practices and sales contracts, nor will GRCA be involved in any manner in contract disputes between puppy buyers and breeders. Availability of puppies and conditions of sale are at the sole discretion of the individual breeder. Buyers are encouraged to read ACQUIRING A GOLDEN RETRIEVER, as found on the grca.org web-site, for general information about obtaining a puppy, to take as much time as necessary to locate a reputable breeder from whom they feel comfortable purchasing a puppy, and to investigate breeders and their puppies thoroughly before committing to a purchase. You are not obligated to purchase a puppy from the breeders whose names you obtain from GRCA puppy referral.