It is extremely important, when choosing a Breeder to purchase a puppy from, that the Breeder is very involved with the breed. No matter whether it is a Golden Retriever or any other pure bred breed of dog that  you may be interested in.    You, as a buyer need not be this involved, BUT if anyone chooses to be a "Breeder", their involvement is paramount to their contribution to and support of the breed.  Not only club affiliations, adhering to Code of Ethics,   but training involvement and knowledge of the breed.   Below and through out the pages on this web site, you will be informed about my involvement in, employment,  breeding, training and competing with the Golden Retriever breed for the past 49 years.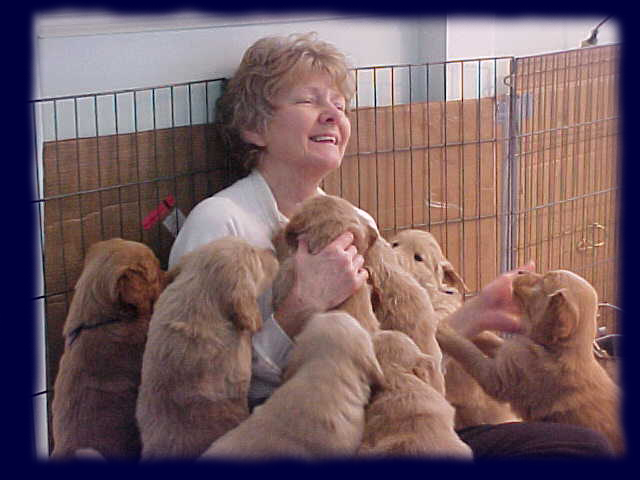 I was privileged to have the  Golden Retriever Club of America interview me for the second time, about my Wynwood Goldens.  The interview was published in the May-June 2010 issue of the Golden Retriever Club of America News.  It has been a great honor to share my life with my Goldens and the article can be read by clicking on this link….
---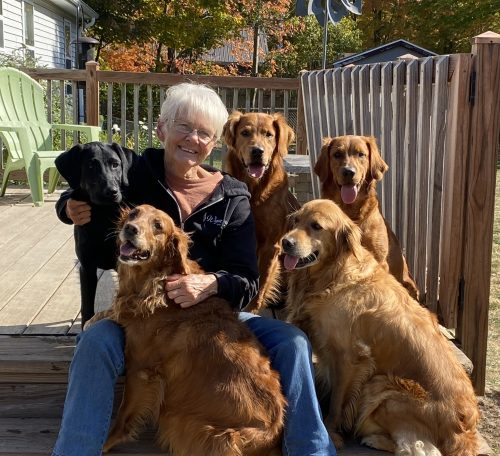 2023
---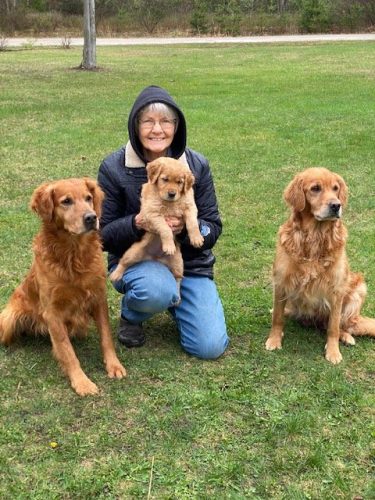 2022
---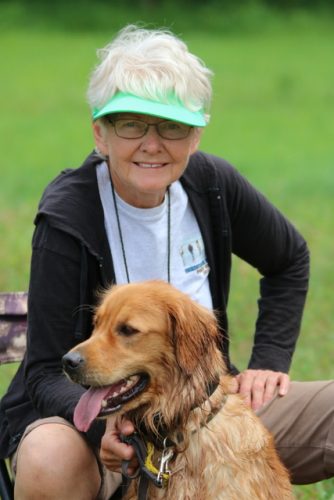 Lilly & Renee   July 2020
---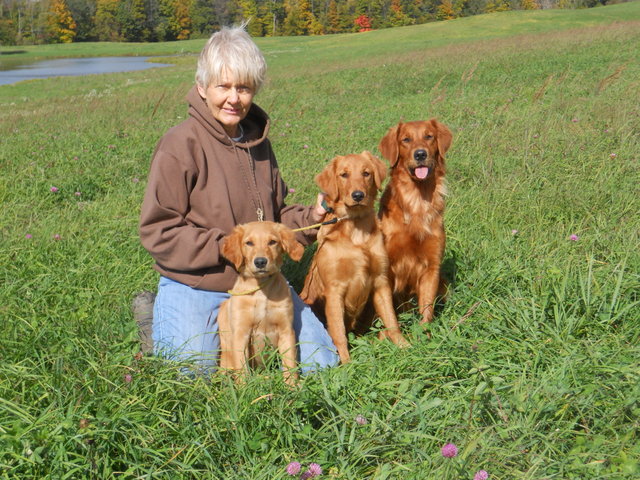 Renee with Smarty, Kate and MeMe – Fall 2014
I have been involved in the "world of dogs" since 1975.  These involvements include:
Obedience:   Trained and finished two Obedience Trial Champions, several Utility Dog titles, Companion Dog Excellent titles, Companion Dog titles and one Tracking Dog title.
Field:   Field trained and run my dogs in AKC Field Trials and AKC & UKC Hunt Tests.  I have finished several Working Certificates and Working Certificate Excellent's, Junior Hunter titles, Senior Hunter titles, seven Master Hunter titles, two Qualified All Age Dogs, three ** dogs, one QA2 dog, two Hunting Retriever Champion titles and two Hunting Retriever titles.
Breeding:   I have been breeding Golden Retrievers since 1978 under the Kennel name, Wynwood, as competitive obedience dogs, hunting and hunt test dogs, tracking dogs, agility dogs and family companions.  Bred 40+ Obedience Trial Champions along with Tournament Winners and placers.  The Golden Retrievers that I have bred have been regularly rated among the top obedience dogs/all breeds.  I have owned and bred multiple Outstanding producers, and bred the AKC   "National Obedience Champion" for 2002.  In 2022 Wynwood was honored to be the breeder of the GRCA 2022 Gold Standard Winner.  In 2023 Wynwood was the breeder of it's first SWD (Scent Work Detective Dog),  Wynwood was the FIRST  Golden Retrieve kennel to produce four littermates that achieved the Obedience Trial Championship title.  I breed 1 – 4 litters a year.
Club Involvement: Previously on the Board of Directors for the Ft. Detroit Golden Retriever Club and Marshbanks GRC of South Central MI.   Chairperson for the 1989 Golden Retriever Club of America Jump Height Committee, a significant committee that was instrumental in lowering obedience jump heights for all breeds. Member of Marshbanks Golden Retriever Club, Michigan Flyways Retriever Club,  The Golden Retriever Club of America,  St Clair Flats HRC and Wolverine Retriever Club

Employment: Manager and Trainer at Canine Workshop, an obedience training school for dogs, for eight years.  Owner of Dog Days, Inc., an obedience training school in Rochester, MI for eight years.
Volunteered for Paws With A Cause, an organization that trains dogs for people with disabilities, for many years.
Employed by Paws With A Cause for nine years.  Responsibilities included developing a Breeding Program and managing this program, Field Trainer, Needs Assessments, Certifications, Dog evaluations. Field trained 16 Assistance Dogs for people with disabilities since 1998.
Employed by Leader Dogs for the Blind in Rochester, Michigan as Breeding Program Manager.  Responsibilities include managing and educating all the host homes that the breeding stock lived with, breeding all dogs either naturally, artificially or assisting in transcervical inseminations. Producing 200 – 300 puppies a year. Responsible for all cryogenic work, preserving for the future, the quality of the Leader Dog stock.  Data entry to track all dogs hosted, bred, puppies whelped, benchmark goals to track and achieve the best dog guide possible.
Retired from Leader Dogs for the Blind in April 2011.
Please contact me:
Renee Schulte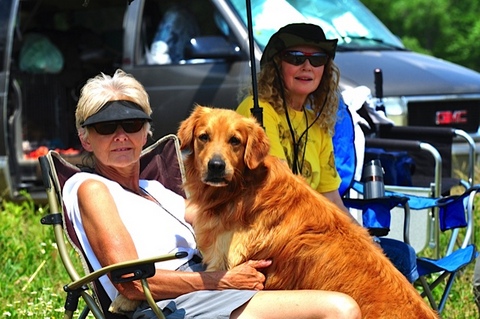 Rocky and I at a hunt test  2012