---
CHECK THE PUPPY  INQUIRY PAGE FOR AVAILABLE PUPPIES
---
WISHING  EVERYONE  A  HAPPY,  JOYOUS, HEALTHY HOLIDAY  SEASON
---
CELEBRATING  "FORTY FIVE'  YEARS OF BREEDING  GOLDEN  RETRIEVERS
March 1978  – March 2023
---
To honestly breed genetically and mentally sound Golden Retrievers, keeping in mind the breed standard and the true purpose of this multi-talented breed. To be responsible for all puppies produced and be dedicated to the education and support of all parties interested in Wynw
ood Golden Retrievers.
---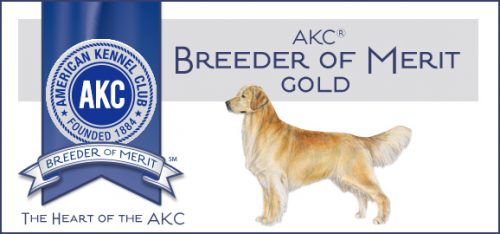 Awarded by the AMERICAN KENNEL CLUB as a Gold Breeder of Merit, for exceptional and outstanding production of quality puppies, along with adhering to the AKC requirements for being a responsible breeder of pure bred dogs.
---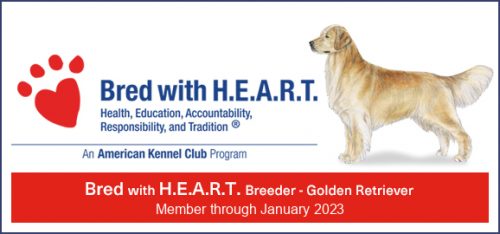 Recognized by AKC as a Breeder with H.E.A.R.T.  Health, Education, Accountability, Responsibility and Tradition
---
Wynwood has always been a small hobby kennel, established in 1978. It makes Wynwood especially proud to have been the breeder of the American Kennel Club's 2002 National Obedience Champion – NOC, OTCh Wynwood New Direction UDX. "Turner" was trained, loved and the soul mate of John Brooks of Little Rock, Arkansas. There are very few dogs in the United States to have achieved this honor!
Wynwood also set a record by being the FIRST kennel to breed one litter that had four litter mates achieve the AKC Obedience Trial Championship title.
In 2022, Wynwood had the honor of being the breeder of the 2022 Golden Retriever Club of America Gold Standard WINNER.  You can read about Toby, the winner, on the Honors page.
In 2023 Wynwood had the honor of being the breeder of its first Golden achieving the AKC Detective Dog title. You can read about Kate and 'Flurry', the winner, at the top of this page.
Since Wynwoods inception, over forty Wynwood Golden's have earned their Obedience Trial Championships, many have been Tournament winners and placers and have been rated among the Nationally recognized Obedience dogs/all breeds. In addition, many Golden's produced at Wynwood, have been honored by the Golden Retriever Club of America as Outstanding Producers and Hall of Fame achievers.  Wynwood is also proud of the many field, agility, tracking, scent work and obedience titles achieved by Wynwood Golden owners.  Three of the most difficult dog sport titles to achieve, AFC (Amateur Field Champion) MNH (Master National Hunter) MACH (Master Agility Champion)  CT (Champion Tracker) and SWD (Scent Work Detective) are titles also earned by Wynwood Golden owners.
---
Litters of puppies are planned with great thought and preparation. Part of this preparation includes health checks (hip, elbow, heart, eye and genetic testing), included in the genetic testing is the NCL5 disease most recently found in Golden Retrieves. Click here for more information on NCL5. All Wynwood dogs are tested clear or found clear through parentage on all health clearances required for the Golden Retriever breed.  
Wynwood Goldens are intelligent, mentally stable and of correct Golden temperament. Home raised, well socialized, both mentally and physically, puppies are placed with interviewed, appropriate families at approximately 7-8 weeks of age. All puppies are guaranteed healthy and have the most current protocol for vaccinations.
Puppies are reserved on a first come basis in regards to the desired goal the purchaser has in mind. Whether it be a family companion, obedience/agility competitor or a field/hunting dog.
---
Wynwood Golden Retrievers are generally bred from working backgrounds, maintaining the most important asset of the breed, as stated in the Golden Retriever breed standard, of 'primarily a hunting dog'.  They tend to be active, have strong work ethic, athletic, muscular, good looking, with sound structure, of medium size with medium length, easy care coats.  They are also very intelligent, people pleasing, family type dogs for active families.  Wynwood puppies/ adults need more then a walk around the block as exercise.  Multi weekly running and conditioning is paramount for a Wynwood Golden Retriever. 
Wynwood does not produce a show/conformation type Golden Retriever.  A conformation type Golden Retriever is much bigger in size and weight, has a great deal more coat, bone size and head type.
---
Wynwood is dedicated to the betterment of the Golden Retriever Breed.
---
Excerpt from the Golden Retriever Club of America's Breed History:
" The Golden Retriever's athletic good looks reflect his abilities, and nothing in the dog's makeup should interfere with, or detract from, the Golden's working sporting characteristics."
---
IT IS RECOMMENDED THAT YOU RESERVE YOUR PUPPY EARLY
---
Please review the Puppy Inquiry page before contacting Wynwood
Please NO Text message inquiries
Contact me:
Renee Schulte

248-841-5887
North Street, Michigan  48049 (also called Clyde, MI )