Presenting
"RYLEE"

SHR Ambertrails Say What U Want MH, WCX, OD, CCA
January 23, 2004 – September 2017
Sire:

Can Triple CH FTCH AFTCH OTCh Firemark's Push Comes to Shove WCX, CDX, Am.OS


Dam: Ambertrail Sparks To A Flame Can. QFTR, WCX, JH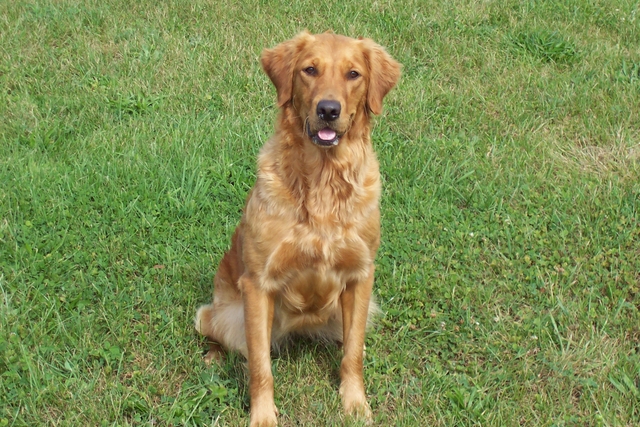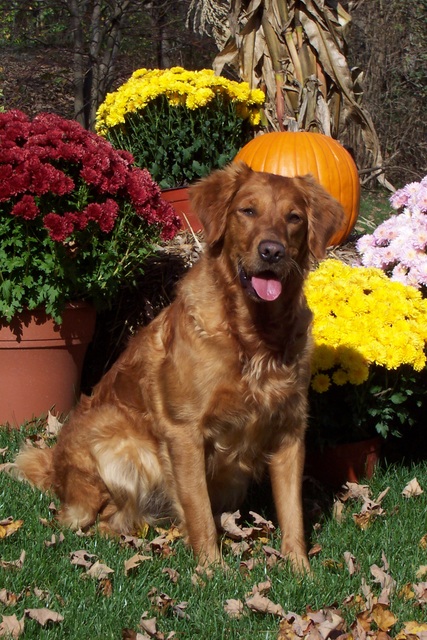 Rylee was born on January 23, 2004 and acquired from Ambertrail Golden Retrievers, in Canada, at 7 weeks of age. Rylee's sire is TRIPLE CH-AFTCH-OTCH  Firemarks Push Comes to Shove Am-Can***, WCX and her dam is Ambertrails Sparks To A Flame Can***, WCX, JH.
Rylee is a fun dog to live with. She has a happy playful attitude and more of a "business" attitude when it comes to retrieving birds. She is a good marking dog and is confident and sure on both the land and water. She is cooperative in her training, stylish in her work, willing to learn, has good work ethic, and just enough of a mind of her own to keep training interesting.
Before Rylee was 8 months of age she finished her Started Hunting Retriever (SHR) title. On September 3, 2005 Rylee earned her AKC Junior Hunter (JH) title with 4 straight passes at 19 months of age. In September 2007 Rylee completed her Senior Hunter title.  In the summer of 2009 Rylee passed 4 Master Hunter tests before the weather ran out and winter arrived.  Rylee took time off from training and running hunt tests to whelp 3 litters of puppies in 2008, 2009, 2010 and her last litter in 2011.   I am proud and thrilled to report that Rylee is now an AKC MASTER HUNTER.   She completed her last pass at the Michigan Flyways Retriever Club Hunt Test on September 5, 2010 and then two weeks ends later she passed two back to back Masters in one week end.  Rylee has matured into a exceptional retriever and cooperative team player.  She has exceptional knowledge of the use of her nose and her memory skills are remarkable.
T
hough now retired and the 'ruler of the roost' here at Wynwood, Rylee participated in the Marshbanks CCA (Certificate of Conformation Assessment) test on November 11, 2012 and earned her CCA title at the tender age of almost 9.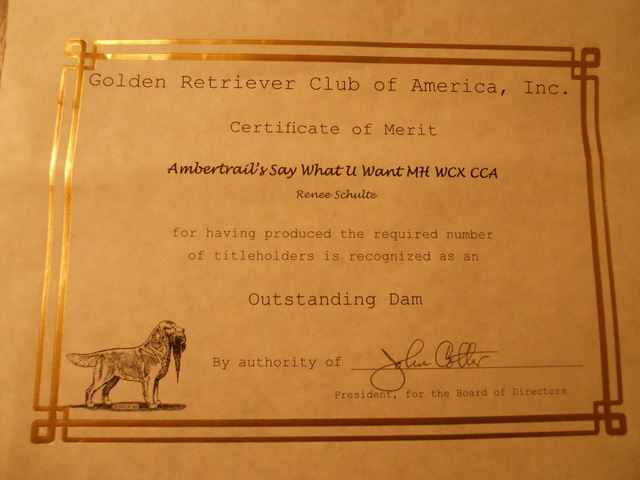 Honored by the Golden Retriever Club of America as an Outstanding Dam for Rylee's production record of producing exceptional off-spring, trained by exceptional owners.  These off-spring garnered titles required to achieve this honor for Rylee
Rylee passed to the Rainbow Bridge in September 2017.  She is greatly missed.