FOUNDATION  DAM OF WYNWOOD GOLDEN RETRIEVERS
Am-

Can OTCH Meadowpond Angelic Abbey TD, WCX
Golden Retriever Club of America Outstanding Dam
Golden Retreiver Club of America Obedience Hall of Fame
November 29, 1974 to June 29, 1987
Sire:

Am./Can. CH. Bardfield Boomer UDT WC OS OBHF, Can. UD TDX



Dam:

Laurell's Jaunty Jinn-Jinn CDX OD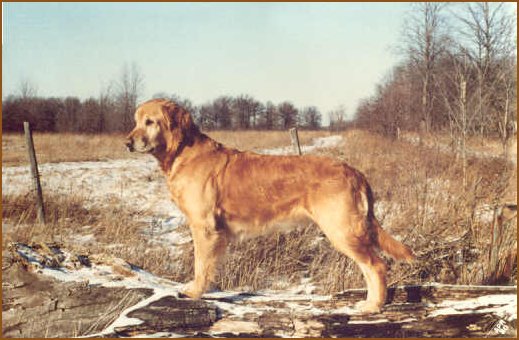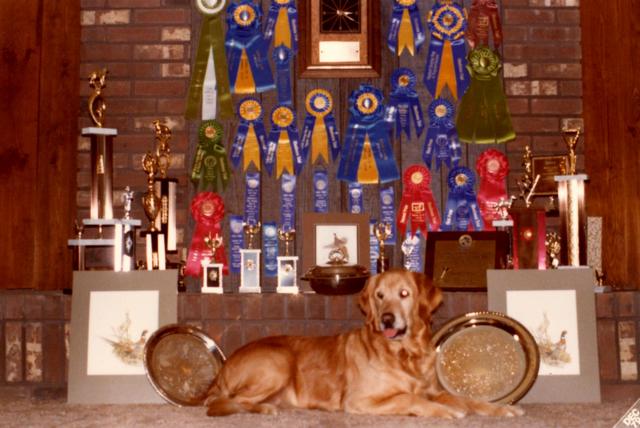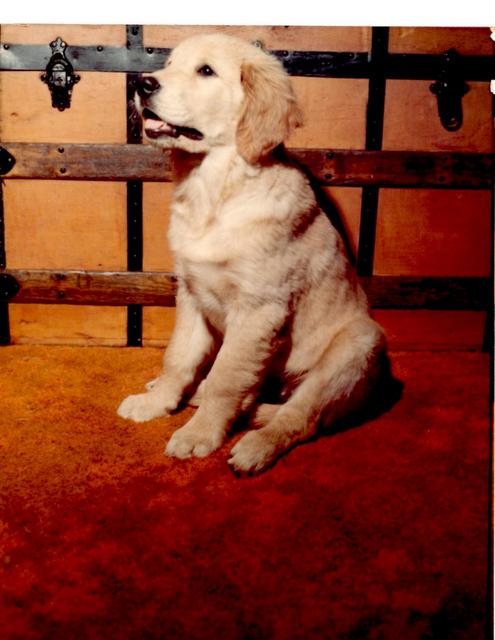 Abbey 3 months old
Findings of 2007 Research

s

tudies for Golden Retrievers:
Abbey is still rated one of the top 3 female Golden Retrievers to have produced nine Obedience Trial Champion offspring; and is the only

female with her listed titles of

American Canadian Obedience Trial Champion, Tracking Dog and WCX. Abbey is also rated #2 in production of Obedience Utility Titled offspring.

Follow this link for more info:

www.undeniablegoldens.com/GoldenStudiesLink.html
"Abbey" was purchased as my first Golden Retriever from Cherie Berger of Meadowpond Golden Retrievers in 1975, as a prospective obedience trial competitor.
Daughter of the well known, and probably one of the top producers of obedience Golden Retrievers in the history of the breed, Am-Can Ch Bardfield Boomer UDT, WC, Can UDTX, "Abbey" made it possible for me to achieve more than I ever imagined.  She taught me about dog training to a higher level, along with setting goals, problem solving, patience, humility, but most importantly … love and devotion, I never thought possible.
"Abbey" became the foundation dam for Wynwood Golden Retrievers.  She introduced me to the vast community of dog trainer's and her own list of achievement's is long and impressive 
---
Abbey's Honors and Achievements
In Abbey's breeding lifetime she produced nine Obedience Trial Champion off-spring.  Four off-spring from one litter made Abbey an Outstanding Dam.  This litter was the first litter of any breed to produce four (4) Obedience Trial Champions!
 To this date, "Abbey" is still the only dog to win First Place four years in a row at the Detroit/Windsor World Series of Dog Obedience Competition.  In 1980 she won the Super Dog Division, 8 weeks after delivering puppies.
Gaines Regional Obed Competition-Novice Div – 3rd place.
Gaines Regional Obed Competition-Super Dog Div – 6th place.
 Great Lakes Open Competition – 3rd place.
 Delaney Obedience System rating -1979- First quarter-#1 Golden Retriever.
 Delaney Obedience System rating -1979- Final ratings – 9th place all breeds, 4th place Sporting Group, 3rd place Golden Retrievers.
Ft. Detroit GRC – 1979 – #1 Obedience Dog.
 Sportsmens DTC – 1979 – #1 Obedience Dog.