Presents
"BAILEE"
OTCH  Wynwoods Locknor Bailee JH WCX
GRCA OBEDIENCE HALL OF FAME
GRCA OUTSTANDING  DAM
Si

re:

OTCh Meadowpond Stardust Reggie OS OBHF


Dam:

OTCH Wynwood Two Double Zera UDTX OD




9/18/1984-3/4/2000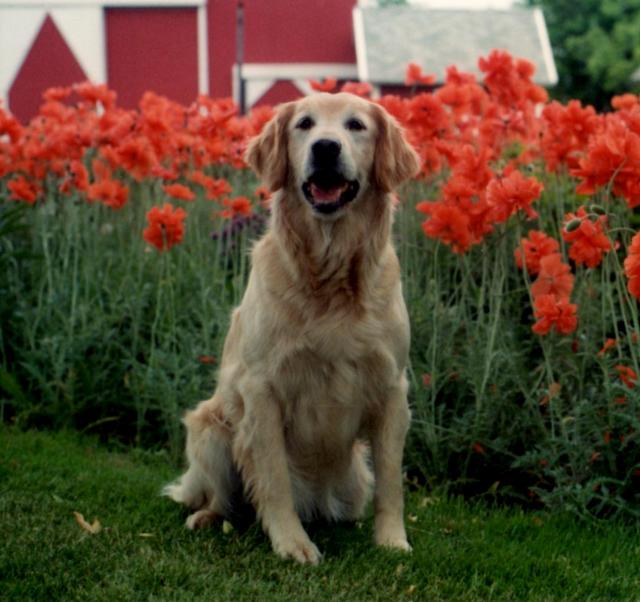 Bailee was purchased from well known obedience competitor and judge Lockie Treanor.  Lockie purchased a puppy from me in 1980 out of Wynwoods foundation dam, Abbey, (Am-Can OTCh Meadowpond Angelic Abbey TD, WCX, OHOF, OD and OTCh Sungold Duke of Brookshire WCX) She named this puppy, Zera (OTCh Wynwoods Two Double Zera UDTX,OD)  Lockie decided to breed Zera when she was four years old and she picked, highly competitive, OTCh Meadowpond Stardust Reggie OHOF, OS.  Reggie was a grandson of Abbey's, so this became a tight line breeding on Wynwoods foundation dam, Abbey.  How could I not take puppy from this combination.
Bailee was a high energy, athletic, intelligent and VERY willing to please female that loved to work.  She was an exciting dog to train and became  a very competitive in the obedience rings.  Most of her points were lost for her over enthusiasm.   Bailee had three other Obedience Trial Champion  litter mates, who were also highly competitive obedience dogs, frequently winning at tournaments.
Bailee whelped four litters totaling 22 puppies.  Bailee's offspring consisted of five Obedience Trial Champions along with working titles of Companion Dog (CD), Companion Dog Excellent (CDX), Utility Dog (UD), Utility Dog Excellent (UDX), field titles and agility titles.  Bailee is honored by the GRCA for being an Outstanding Dam for the quality of her offspring.
Pictured below are three of Bailee's offspring, sired by Wynwood's Jumpin' Jacks CDX, WCX GRCA OS.  All three of these littermates acquired their Obedience Trial Championships along with tournament wins and placements.  All became well known competition obedience dogs. Trotter lived to be 17 years old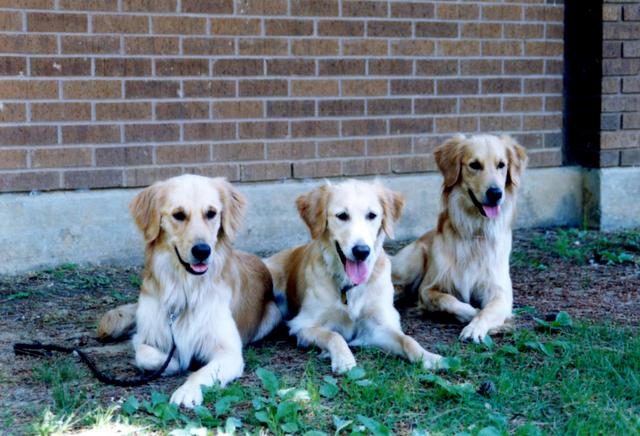 OTCh Trotter                          OTCh Jamie                       OTCh Triller
                                                                MEMORIAL TO "BAILEE"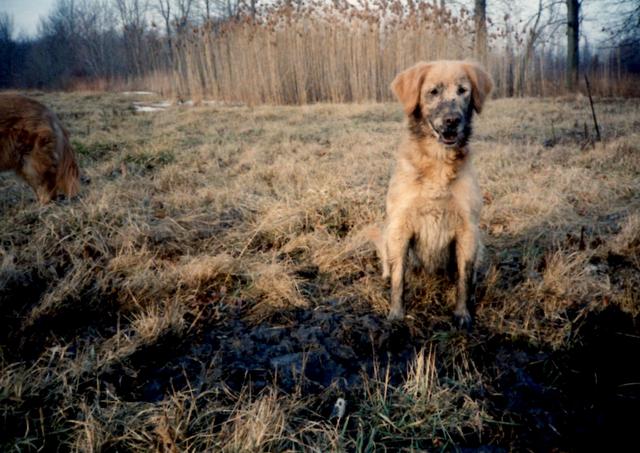 OTCh Wynwood's Locknor Bailee JH,WCX
"Bailee"  — you silly girl, digging in the dirt again.  You always were the 'tomboy' of our dog family.  You did not worry about fame or fortune, or how neatly groomed you were.  Instead, you brought my heart closer to the joys of simple things.   Even though you were not human you brought out my own humanity….sometimes in ways that people cannot.  Each day you taught me little lessons in loyalty, trust and steadfast affection.  I treasure the memories of our 15 1/2 years together.