HRCH Wynwoods Wild Card  CDX, MH, WCX, CCA, VCX,OS ** 
 "Rocky"
GRCA
Outstanding Sire
February 18, 2009  –  November 15, 2019
Sire: AFTCH Wynwood Jokers Are Wild MNH, CDX,OS


Dam: Ambertrails Say What U Want MH, WCX,OD
Hips – OFA GR-104124E30M-VPI
Elbows – OFA GR-EL25162M30-VPI
Cardiac – GR-CA18090/15M/C-VPI
Eyes/OFA – GR-EYE76/120M-VPI (10,11,12,14,15,16,19)
prcd PRA – Carrier
PRA 1 – Clear
Ichthyosis – Carrier
NCL5 – Clear   GR-CL5-1355/119M-PI
Frozen semen available to approved females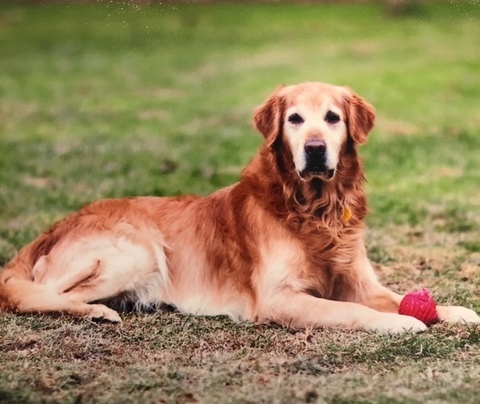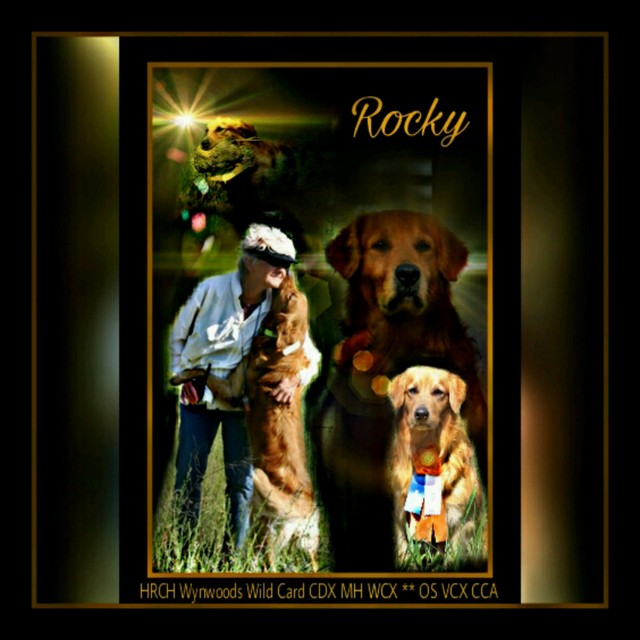 This photo collage of Rocky created by Jen Holmquist, is a true keepsake of so memories this special boy has given me over the years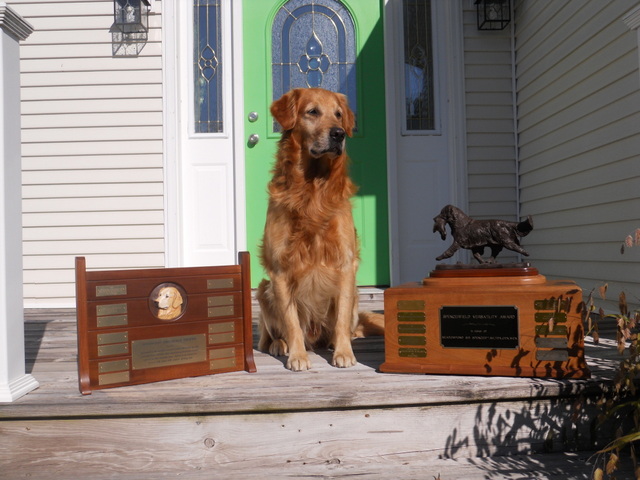 Rocky with his well deserved perpetual trophies in 2014  from Marshbanks Golden Retriever Club of Michigan.  The Wynwood Obedience Trophy for high scores earned for his Companion Dog (CD) title.  The Spencerfield Trophy for high points accumulated for participating in conformation, obedience and field events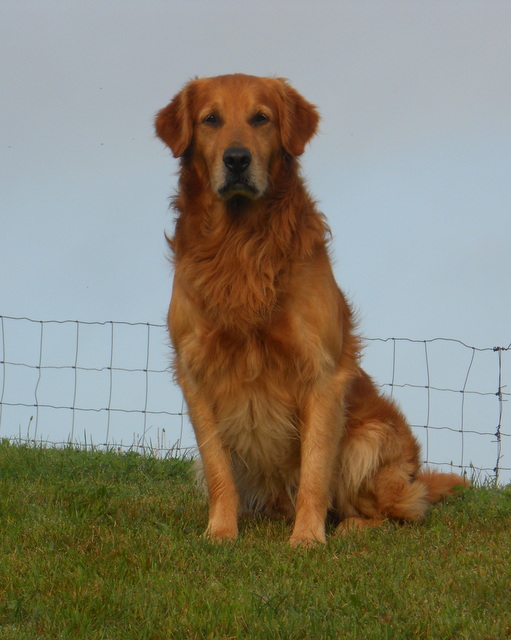 The Golden Retriever Club of America has an established recognition to honor Golden Retriever breeding stock for their exceptional production of talented off spring.  This award is called an Outstanding Sire or Outstanding Dam.  There is a required number of off spring needed, earning titles and accumulating points  that governs this recognition.  I am overwhelmingly proud to announce that Rocky has achieved the title of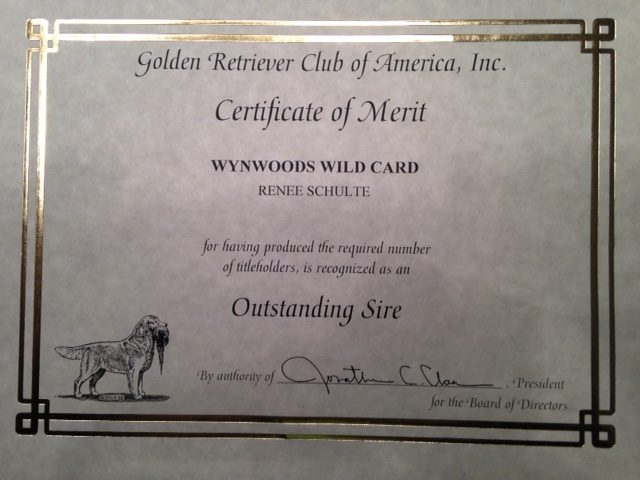 Recognition from the Golden Retriever Club of America for earning the required titles needed in obedience, field and conformation to be recognized for the Versatility Certificate Excellent award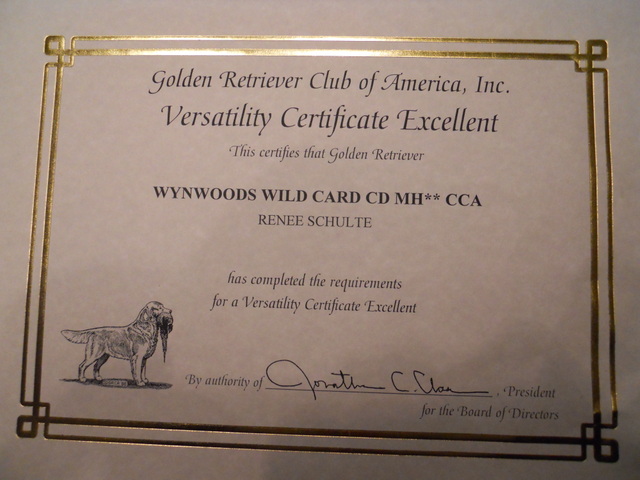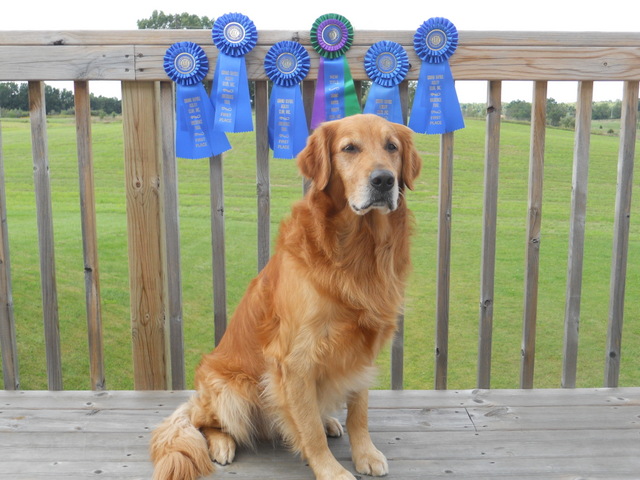 Rocky participated in 5 Novice B obedience classes on 9/12 – 9/14 and WON all his classes to earn his AKC Companion Dog (CD) title.  Well deserved scores of 197, 197, 197.5 and 2-198.5's out of a possible 200 points. Proud of my boy!!
GRCA Breed Standard: "Primarily a hunting dog…..'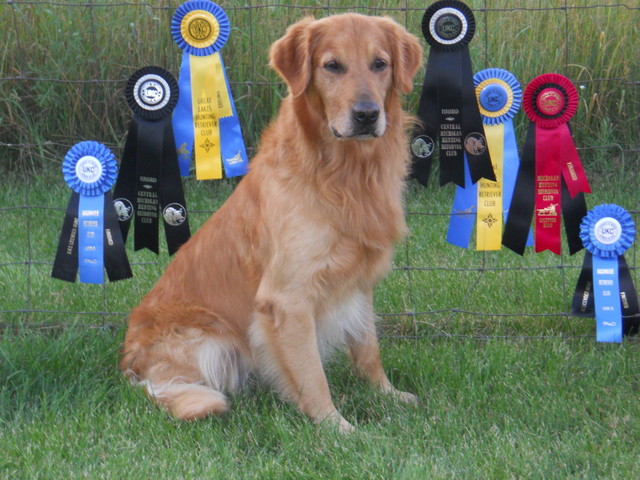 Rocky with his UKC HRCH ribbons. Completing this title in a short 5 weeks to pass 7 out of 7 tests to earn the required points for his title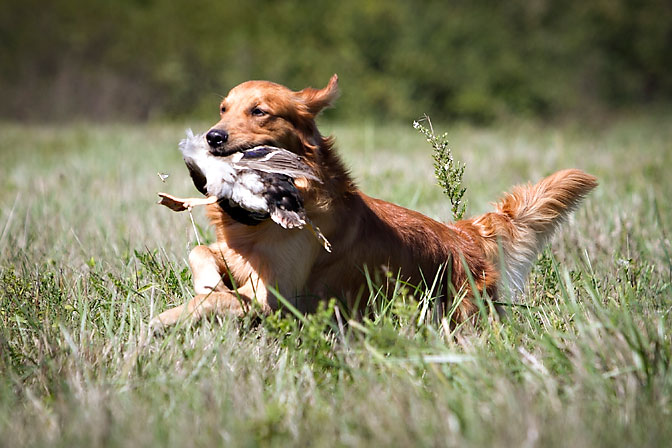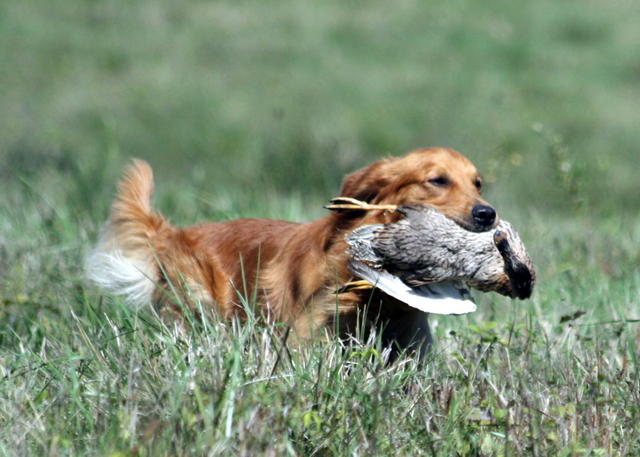 Rocky running in the Qualifying Stake at the Golden Retriever National Specialty, September 2012. Finishing the stake along with 12 other dogs that completed the stake out of 69 starters. Rocky received a JAM ribbon.

Rocky earning his Master Hunter title (MH) 5/20/12 at MI Flyways Hunt test 3 years old
ROCKY DAUGHTER




OTCh Gaylan's Magic Elixir UDX, JH, OM3,WC, WCX, OBHF, VC, CCA   "Brew"
(Rocky x Gaylan's Fly Like the Wind JH,MX,MXJ,WC,OD,VC,CCA)
Breeder Lise Pratt & Gayle Watkins Gaylan Golden Retrievers
"Brew is my first performance bred dog, although I've been involved in obedience with a few previous Goldens. Brew started her obedience career just last month, (Oct 2013) and so far she has five Novice B First Place ribbons, and four High in Trials! I am just thrilled to be her team mate" . . . Loved, trained and owned by Lee Clark, PA.   To date 1/2018, Brew is now the holder of the prestigious title of Obedience Trial Champion (OTCh) the most competitive title in AKC obedience competion.

ROCKY DAUGHTER

Rocky's daughter, Jade, from his first litter born May 20, 2011 achieved the prestigious titles of Master Agility Champion and Agility Hall of Fame by the time she was 2 years and 4 months of age. This is a tremendous accomplishment at this young age!! Congratulations to Jade and her teammate and owner Donna Schmidt

MACH 5 TOPMAST PURPLE JADE UD, MXB2, MJB2, MXF, T2B, DJ, ADHF, JH, CCA, VCX  "JADE"
Rocky and SHR Gaylan's Wind Chime Melody CD,BN,RE,OA,OAJ,NAP,NJP,JH,WC,VC,CCA,CL1,PD1
Breeder: Pat Swallows – Topmast Golden Retrievers

ROCKY 2 YEARS OLD
| | |
| --- | --- |
| Rocky 13 months old. Caught ya! | |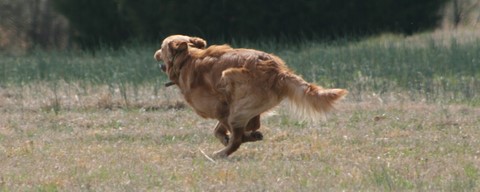 Full speed ahead to the bird!!
What a great asset Rocky was to the Wynwood family. He  turned into a handsome guy, with good structure and an outstanding Golden temperament.

Rocky  exceeded all my expectations and he was always willing to play any 'game' I presented to him. His genetic background goes back to all the old Wynwood dogs on his fathers side of his pedigree.  It is with heartfelt sorrow that Rocky crossed the Rainbow Bridge on November 15, 2019
"Only we know how small a price we pay for what we receive in our grief, no matter how powerful it may be, it is an insufficient measure of the joy we have been given."     Suzanne Clothier 
JH Title: May 23, 2010 at 15 months of age

SH Title: September 12, 2010 at 19 months of age

MH Title: May 20, 2012 at 3 years of age

HRCH Title: June 22, 2014 Completing 7 out of 7 tests in 5 weeks time!

** Ran 7 AKC Qualifying Stakes, completing 5 stakes. One stake had 35 dogs start and Rocky was 1 of 7 that finished. The 2012 GRCA National Qual had 68 dogs start and Rocky was one of 13 to finish

CCA: November 14, 2010 at 21 months of age

CD:  September 14, 2014 – Five Novice classes in one week end, five 1st placements

VCX: November 2014

CDX:  August 2015 – including a High In Trial award

Outstanding Sire:  September 2015

2015 GRCA National Specialty – October – Master HT pass, JAM Qualifying Stake Field Trial, 4th place Field Dog ** conformation class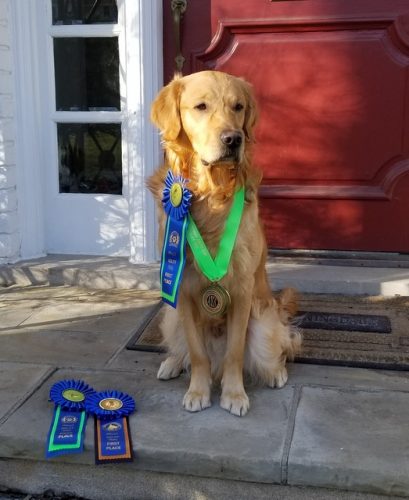 Legend NA, NAJ  loved by Ana, MI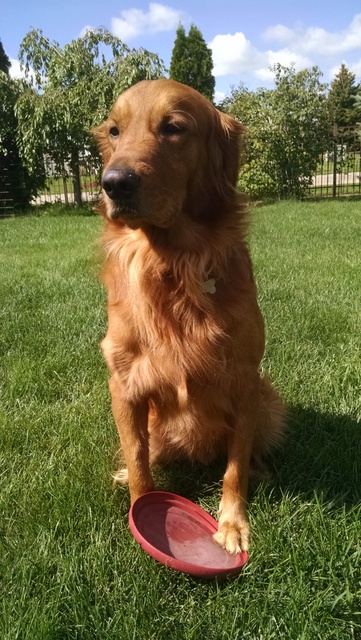 Sweet boy "Marco" – Loved by Norm & Carolyn, MI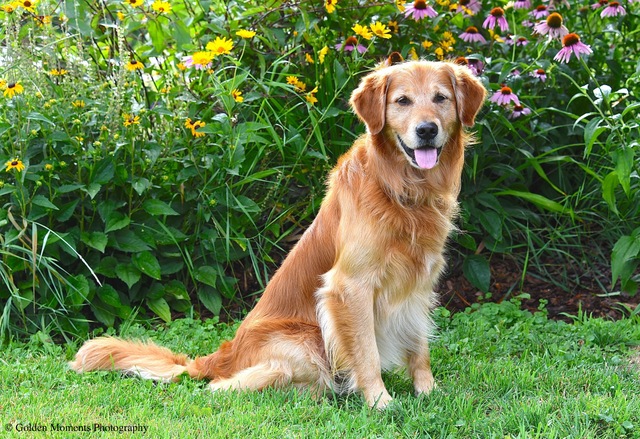 Five year old birthday photo 2016
   Gaylan's Sorcerer's Apprentice CDX, SH, WCX, VC, CCA, CGC   "Partner"
A handsome 'Rocky' son Loved and trained  by Carol Rebeck and Jan Masica, MI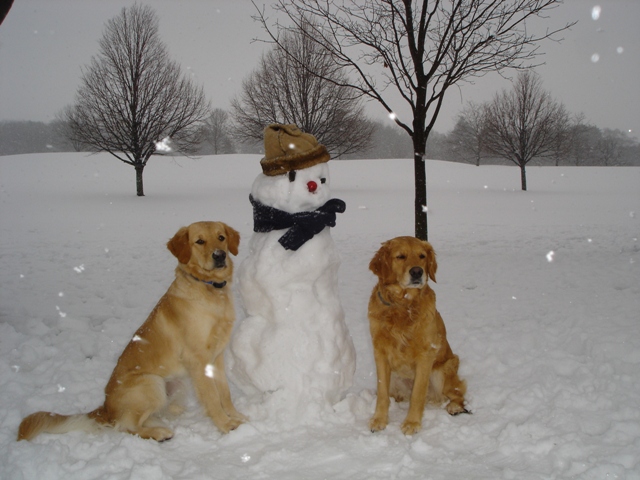 Rocky's daughter, Dancer (left) out of Rayne, owned and loved by Judi Haag – WI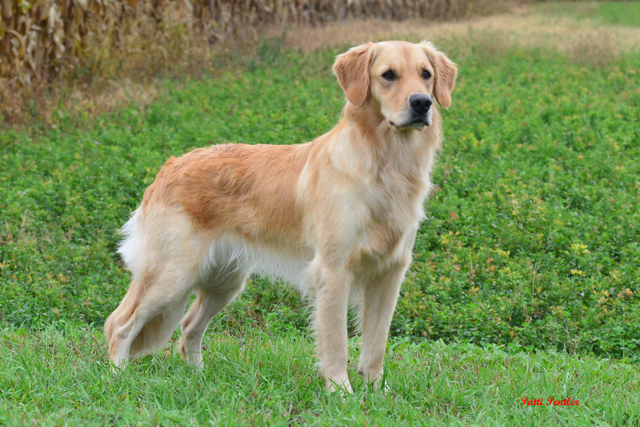 MACH 2 Reindeer's Wings of Hope Dancer CDX, BN, CGC, RA, AX, AXJ "Dancer" Loved, owned and trained by Judi Haag – WI