OLDER AVAILABLE GOLDEN RETRIEVERS
  COPPER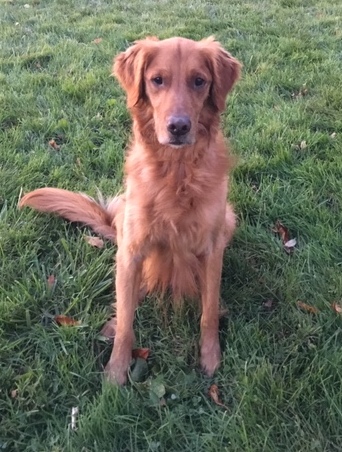 Copper came back to Wynwood due to toy possessive problems around young children.   Copper is fine around older children (8+ years old) and adults.  Copper is 4 years old and neutered.  Copper will only be placed in a home with the following restrictions:

No children or grand children,  infant to 8 years of age.  Fine with older children disciplined in how to interact properly with and be kind to dogs. Click this link for Managing Children and Dogs.
Copper does not get along with intact or neutered  male dogs.  Is fine with female dogs
Copper has had a loving relationship with his former family.  But was not good with the 2 year old child in the family  due to toy possessiveness.
Up to date on vaccinations.  Healthy
Basic household obedience. House broken.
Copper has been trained in Dock Jumping
Copper is an avid retriever and enjoys that activity along with being a great swimmer
If you may be interested in Copper, you will need to call Renee Schulte at 248-841-5887 for an interview.
---
On occasion, Wynwood has older trained or partially trained puppies and young dogs available for sale.  Available dogs can range in age from 3 months to ? years of age.  Rarely, but sometimes an older retired dog may become available. 
Puppies would be started on socializing, house breaking and basic obedience commands of Come, Sit, Down, Stay, Leash Control and House Manners.  House manners include: curtail chewing and puppy biting, no jumping, stay off furniture, no excessive barking, crate training.  As the puppies mature more advanced training is taught.  Older available dogs would have complete house manners and off leash control.